Categories: Other
This is an excerpt from Chapter 8 of Frank Donnelly's Exploring The U.S. Census.
Beyond the County Business Patterns (CBP) and Economic Census, there is a dizzying array of additional data-sets published by the Bureau of Labor Statistics (BLS) and the Census Bureau that collect data on the labor force (recall that we discussed what constitutes the labor force back in this previous post – ADD LINK!). At first glance, they appear to cover many of the same topics, but each one employs a different methodology and focuses on a specific set of labor force variables at varying levels of geographic detail. In this section, we'll summarize several of these additional sources so you can determine which ones meet your needs.

Generally, the BLS datasets are similar to the CBP and Economic Census in that they survey or count business establishments to measure employment and wages, and thus, this data measures activity based on where people work. This is in contrast to the Census Bureau datasets on the labor force (the Current Population Survey [CLS] and the American Community Survey [ACS]) that capture information based on where people live. All the datasets employ NAICS codes for classifying the labor force by industry.
The BLS data is more timely and less geographically specific. It has a stronger orientation toward being studied as a time series, and as such, many datasets are adjusted so that past data fits current definitions for geography and NAICS, and dollar values are updated based on inflation. One decision you'll often need to make is whether you want employment data that is seasonably adjusted or not. The size and composition of the labor force fluctuates due to cyclical, seasonal factors such as the school year, harvest season, major holidays, and the weather. To measure underlying trends in the economy, the BLS uses statistical methods to adjust and smooth out these normal seasonal fluctuations.
The BLS provides access to all its datasets plus the CPS labor force statistics through their portal at https://www.bls.gov/data/. It provides a number of different paths for access: a data finder search tool, one screen or multiscreen point—click—retrieve applications, lists of formatted tables, and lists of raw data files for downloading data in bulk. While our focus is just on their labor force statistics, they provide a number of other data series that cover inflation, prices, spending patterns, and more. An alternate source for obtaining BLS tables and charts is FRED, an online database created by the Federal Reserve Bank of St. Louis: https://fred.stlouisfed.org/.
Current Employment Statistics (CES): a monthly survey of business establishments that measures the number of workers, hours worked, and average hourly wages. The survey is based on approximately 149k businesses and government agencies representing 651k physical locations. It does not include the self-employed, agricultural workers, and a few smaller industries. Industry data is published for broad categories (not detailed NAICS levels)—for states and metropolitan areas.
Quarterly Census of Employment and Wages (QCEW): an actual census or count of business establishments that is conducted four times a year. It captures the same data that's in the Current Employment Statistics, plus the number of establishments, total wages, and average annual pay (wages and salaries). Data is tabulated for states, metropolitan areas, and counties but is subject to the same disclosure rules and suppression techniques used in the CBP and Economic Census.
Occupational Employment Statistics (OES): a biannual survey of 200k business establishments that measures the number of employees by occupation as opposed to industry. The BLS uses the Standard Occupational Classification (SOC) system for classifying employees by the type of job they perform. Similar to NAICS, the SOC has a series of broad categories that can be broken down into more detailed divisions and subdivisions. The codes can be browsed and searched at https://www.bls.gov/soc/. Data on number of workers and wages is published for 800 different occupations for states and metro areas but does not include agricultural workers.
Current Population Survey (CPS) is a monthly survey of 60k households that is conducted by the Census Bureau in partnership with the BLS to publish labor force statistics. Since it is household based, it counts workers by where they live instead of by where they work and is primarily focused on measuring employment, unemployment, and labor force participation. The other surveys and counts of business establishments can't capture these characteristics, as they can only measure who's employed. The CPS also captures demographics of the labor force by age, sex, race, and Hispanic origin. Monthly data is only published for the nation, but microdata is published for researchers to create their own tabulations.
Local Area Unemployment Statistics (LAUS): is designed to provide the monthly employment and unemployment data published in the CPS for states, metropolitan areas, counties, and places. The Census Bureau and BLS use a series of statistical models to create estimates for approximately 7,000 areas.
Longitudinal Employer-Household Dynamics (LEHD): produces a series of datasets that link employer and employee data from administrative records and other census products to create both summary and microdata. It is administered by the Center for Economic Studies at the Census Bureau.
American Community Survey (ACS) captures labor force status (employed/unemployed), occupation by SOC, and industry of employment by NAICS primarily based on where people live, but there are a few tables that tabulate data based on where people work. The ACS data is less timely compared with these other datasets as estimates represent 1-year and 5-year averages with margins of error, but it is more geographically detailed. The ACS labor force data is best used when working on a project where you're using a number of other ACS variables and want to use labor force data that's generated using the same methodology, working with geographies for which data isn't published in other sources, or you are content with generally characterizing an area rather precisely measuring it.
Beyond the datasets mentioned here, the Census Bureau publishes a wealth of other business- and economic-related series that include annual surveys of manufactures, construction, retail and wholesale trade, commodity imports and exports, job creation and destruction (business dynamics), data on building permits, residential housing construction and sales, statistics on taxation and public employee retirement systems, and more. Visit https://www.census.gov/topics/business-economy.html to learn more.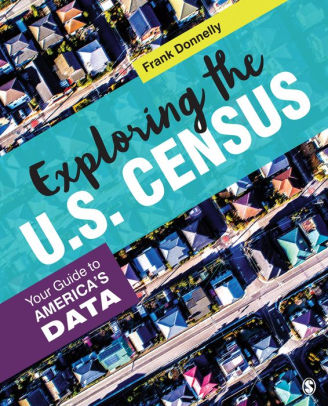 Frank Donnelly's new book, Exploring the US Census: Your Guide to America's Data, aims to give social science students and researchers alike the tools to understand, extract, process, and analyze data from the decennial census, the American Community Survey, and other data collected by the U.S. Census Bureau.